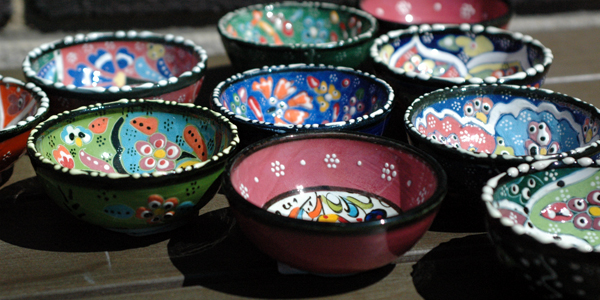 Made in the Turkish city of Kutahya, these 3 1/2 Inch hand painted ceramic bowls are food-safe for serving finger food items. Due to their ceramic nature however, the high heat from microwaves should be avoided and hand-washing is recommended.
Featuring raised bold color design patterns, these bowls make great decorations as well. Displayed on using a vertical shelf stand, or simply sitting on its base, these bowls are eye catching and unique pieces.
Impress your guests with one of these beautiful hand-painted works of Turkish art!
Diameter= 3 1/2 Inches
Bowl Depth= From 1.125 Inches
Store Price= $10.00 each
(This product is currently sold out, we'll update this page when more come in)
Not Local to Takoma Park, MD?
Call us at 301-270-1219 or email info@thecoveredmarket.com to inquire about pattern options currently available!