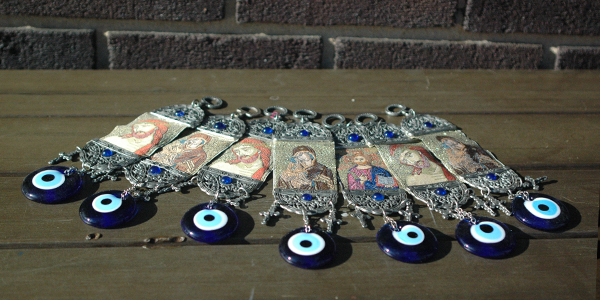 Found in many cultures around the world, the evil eye is represented in many forms. The meaning behind the symbol comes from Proverbs in the bible, verse 28:22, "He that hastens to be rich has an evil eye, and considers not that poverty shall come on him". The evil eye in this case, translates that those who blindly pursue money and possessions, find themselves lost in the emotions of envy, desire, greed and resentment.
The Nazar Boncugu (translated from Turkish to English as "The Evil Eye Bead") is an very widely used symbol which is intended as a protector against the emotions of someone who has an evil eye. Found in many homes, businesses, and vehicles, a visit to Turkey will almost certainly introduce you to the symbol. Newborn babies often have a smaller bead safety pinned to their back-right shoulder garment. Some building foundations feature inscriptions of the symbol, and some websites even work it into their coding.
The Nazar Boncugu watches over it's owner and their possessions. It is said that should the eye break or be lost, it has acted to protect its owner in some fashion. Most often received as a gift from a colleague, friend, or loved one, these are great ways to show your appreciation to someone.
Represented in many forms, we have multiple options for you to choose from in terms of wall hangers that feature the nazar boncugu. These particular hangers also feature images of Jesus on a golden background, and two small crosses below representing the crucifixion.
Hanger Length: 8.5 Inches
Hanger Width: 2 Inches
Store Price: $12.00 each
Not Local to Takoma Park, MD?
Call us at 301-270-1219 or email info@thecoveredmarket.com to inquire about pattern options currently available!